Tokyo serves as a hub for financial companies that possess advanced financial techniques and is where superior human resources in the fields of finance, investment funds, and information gather from all over the world. We are placing emphasis on the facilitation of asset management and FinTech to develop the city of Tokyo and aim to transform these areas into an ecosystem.
In addition, we encourage activities that aim to solve social problems such as ESG investment, which has been gaining more attention internationally; and we are promoting the realization of Tokyo as a world-leading society.
A world city representing Asia
World-class economy
As an economic city, Tokyo represents the world and ranks first globally in terms of GDP at USD$ 1,600 billion. (New York is in second place with USD$ 1,400 billion). Tokyo has occupied the top place for half a century.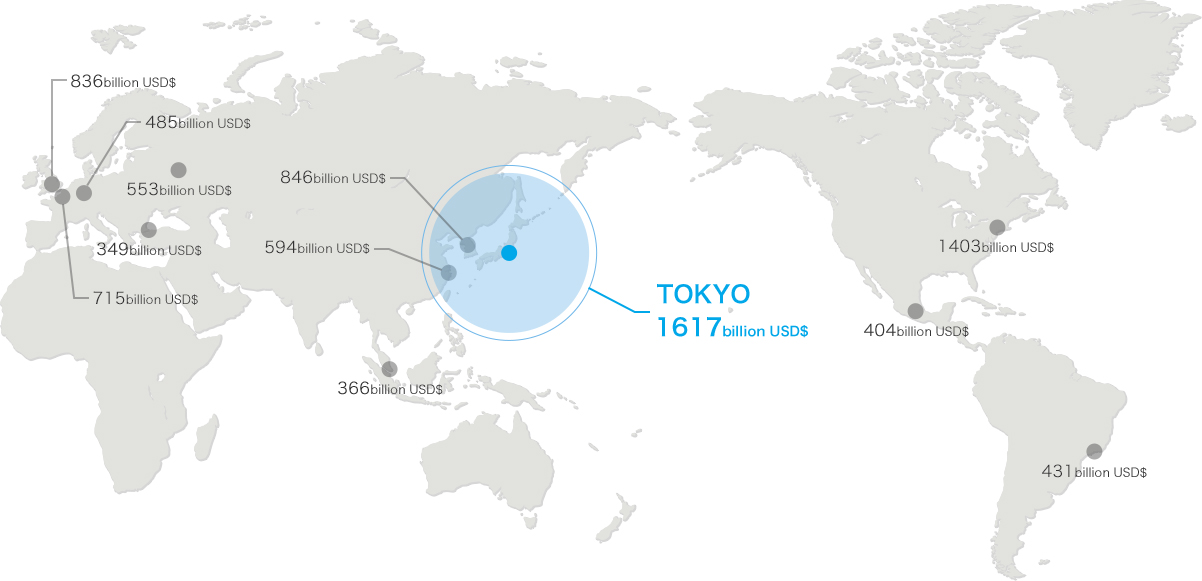 (Reference: Brookings Institution – Global Metro Monitor 2015)
World-class household financial assets
The scale of household financial assets in Japan has reached JPY¥ 1,800 trillion and is expected to contribute to the economic growth of not only Japan, but also Asia. Additionally, because of the boost instigated by the government's policy of utilizing capital markets more aggressively, each sector, from individuals to institutional investors, is starting to invest more aggressively than ever before.
JPY¥1,800,000,000,000,000(JPY¥ 1,800 trillion / 2018)
Global Power City Index
Tokyo is positioned at the world third and Asian first in "Global Power City Index 2018 (Institute for Urban Strategies of the Mori Memorial Foundation)" that shows, in terms of international city competition, which city has the attraction to entice people and companies.
Source:2018 Global Power City Index (Institute for Urban Strategies of the Mori Memorial Foundation)
Hub of financial institutions representing Asia
In Tokyo there are 1,500 financial institutions and a large number of financial players that provide sophisticated services. Domestic financial institutions with abundant assets and foreign financial institutions are also concentrated, forming the city's efficient and well-disciplined financial ecosystem.
Financial institutions
1,500companies
Financial market representing the world
Tokyo has a stock market that represents the world, and boasts high-quality, affluent liquidity; there are 3,700 listed companies (second in the world); the total market value is JPY¥ 600 trillion (third in the world and first in Asia); stock trading value per day is JPY¥3 trillion (first in Asia), etc.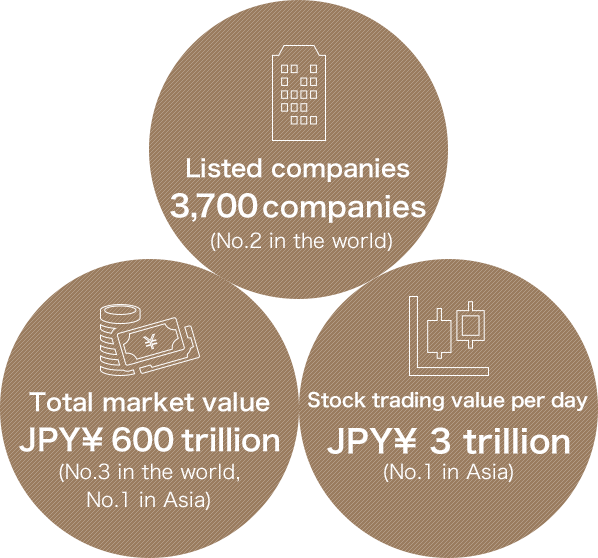 Reference: The World Federation of Exchanges – Statistics 2018
* As of December 2018
Concentration of companies representing the world and solid industrial structure
Tokyo has a stable and solid industrial structure; it is the location of a large number of major corporations representing the world in the fields of automobiles, machinery, medicine, healthcare, etc. and a large number of small and medium-sized enterprises that boast advanced manufacturing and environmental technology.
Highly reliable social infrastructure and human resources market
Tokyo is Asia's leading city, and a magnet where, compared to the world, highly reliable transportation, telecommunications, social infrastructure, and highly educated human resources are found in abundance. It also has a well-established and comfortable business environment.